Updated at 12:00 PM
Remaining thunderstorms and shower activity will continue to decrease in the morning. A steamy afternoon on Tuesday will clear some clouds. More storms will develop in southern Minnesota and become severe.
A cold front focuses on Tuesday's thunderstorms
Remnants of rain and thunderstorms from Monday night's activity in South Dakota will move eastward and taper off rapidly Tuesday afternoon. We'll see some clearing in southern Minnesota in the afternoon as things turn steamy. Morning showers and clouds may keep it from hitting 90, but it will still be warm and muggy.
Storms will develop again in the afternoon and evening, especially in areas that did not experience morning thunderstorms.
There is a slight risk (Level 2 of 5) for severe storms in western Wisconsin, central and southern Minnesota. The primary threats are large hail and some damaging winds in some storms, especially afternoon storms.
MPR's budget year ends on Friday and we're way behind target. Your gift today makes a difference! For every donation made to MPR through Friday, we'll plant a sapling in a Minnesota state forest in partnership with the Future Forest Fund. Grow a more connected and sustainable Minnesota today!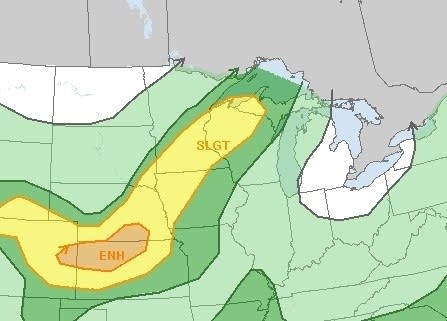 The question remains as to how far north severe storms can develop due to morning thunderstorms and cloud cover. The highest energy forecast for strong storms appears to be mainly in central Minnesota with morning showers across southern Minnesota.
Because the air aloft is relatively light, storms move more slowly and produce more precipitation inland. There is a risk of heavy rain.
Temperatures drop into the 70s and 60s on Wednesday behind storms and storms.
We are back to seasonality; 80s and 70s by Friday, another chance for thunderstorms by Saturday.